Our light up shirts are great for a number of things, birthday celebrations, bachelorette parties, graduations, etc. We have made light up shirts for percussion groups (sound activated percussion art is awesome, btw), dance costumes, and as welcome home signs. But little compares to how amazing it was to make proposal shirts. That's right, light up t-shirt proposal time! Get excited!!
When Henry first approached us to make a couple proposal shirts we could not have been more thrilled. It is difficult to find a unique way to propose to someone that isn't cliche (guy thinking about putting ring in champagne glass, I'm talking to you) and what better way than with a light up t-shirt.
Oh, but it gets so much better. Henry and his girlfriend were big fans of the Disney movie Up. For anyone who hasn't seen this, the movie is based on two people madly in love with a life-long yearning to travel. Eventually the wife dies and the widower finally fulfills their dream to see the wilds of South America by tying a bunch of balloons to his house and taking off. Henry was hoping to make two shirts that both he and his friend could wear when he took his girlfriend on a hot air balloon ride.
The first shirt, worn by the friend and co-conspirator, said "WILL YOU" with an image of the couple from Up on their wedding day, looking young and happy as all be. The second shirt, won by Henry himself, said "MARRY ME" with an image of the couple grown old and also, happy.
The result was pure magic and ended up landing Henry a fiance!
Don't underestimate the power of a light up t-shirt. We can help you make a design and customize an LED shirt for any occasion. Generate wow, like Henry, using our sound activated shirts.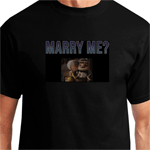 P.S.- We're also dying at the prospect of making a shirt asking someone to go to prom!