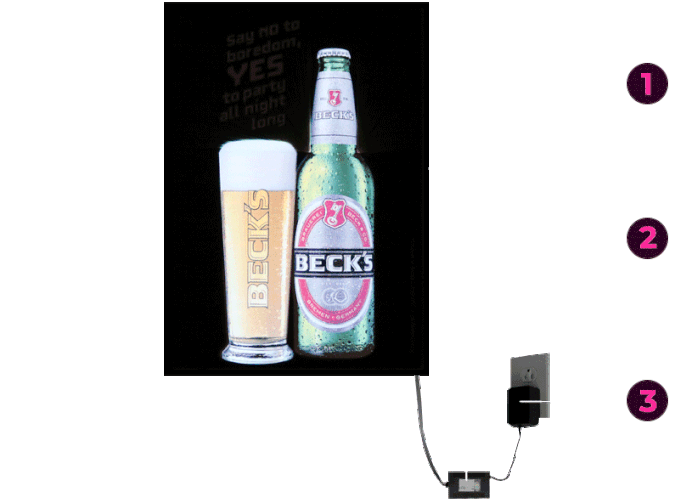 Your design is printed on an electroluminescent poster. It lights up through backlighting the design in different light sequences. It is very thin and flexible material
This is responsible for driving the light up sequence of your design. There is an on/off switch which turns on the poster. Can be made sound activated, auto flashing, or constant on.
This is the power switch that plugs into a regular 120V outlet. US & EU plugs available. We also have car cigarette lighter adapters and 5V USB adapters (size limitations).
Fill out the Light Up Poster order form for a free mock up and quote!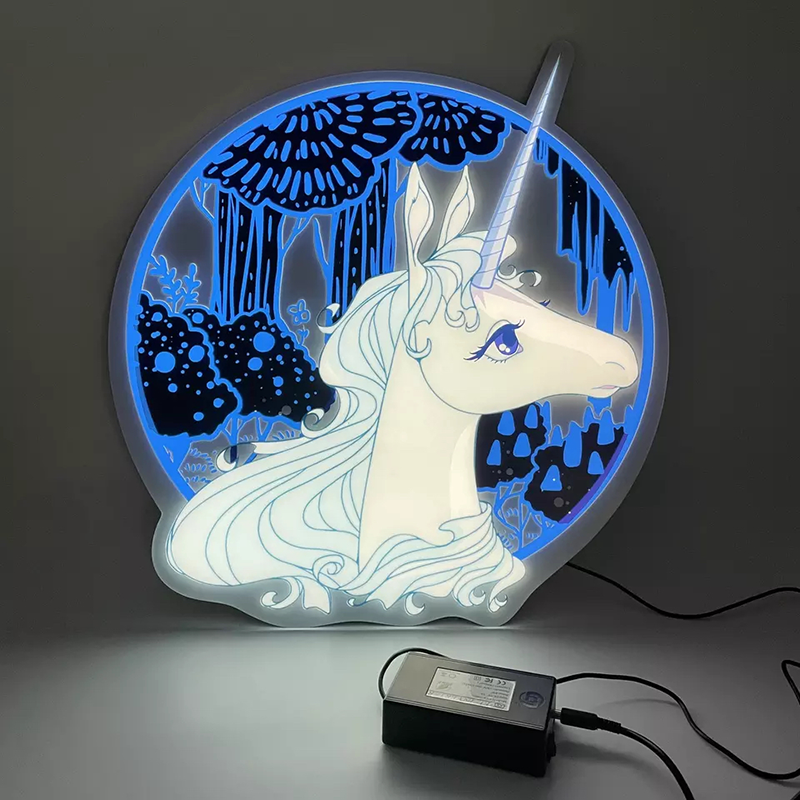 "
EL
"
Light up Poster
FAQs
No! You can order as little as one custom EL poster. However, the more you order the less per unit the posters will cost.
EL posters are water resistant but not waterproof. The connection and power cable should never get wet. We recommend using 3M tape to stick to the inside of a window – though the printed design may fade from sun exposure. We can also make a custom frame that will make the poster waterproof. Please ask us in advance about this option.
Yes you will need either a regular 120V outlet or a DC power outlet (car cigarette lighter plug) for the posters. If the poster is small enough we can use a 5V USB to power the display, perfect for laptops.
Pricing for custom EL posters depend on the quantity ordered, the size of the poster(s), and how much is lighting up within the poster design. Our design team will make an animated mock up and tell you the dimensions of the poster based on the design artwork you send. Once you confirm the lighting animation we will provide you a customized quote for your order.
When the poster is not connected to power you are able to see the design. Once connected to a power source, the printed design will light up in programmed sequences to animate and illuminate the design. If you are trying to use this in the bright sun you may not see the lighting effect.  We do not recommend using the panels in direct sunlight without UV protected glass, as the sun can fade the product. If you are inside a space then you should be able to see it lighting up – the darker the space the brighter it will shine.
We can use any high resolution file such as .JPG, .GIF, .TIFF, .PNG, .PSD, .AI, etc. The bigger the image, the better. Feel free to include as many colors in your design as you want for no additional price. Our design team will create a free animated mock up of how your design will light up. You can work with the design team until the product is exactly what you imagined.