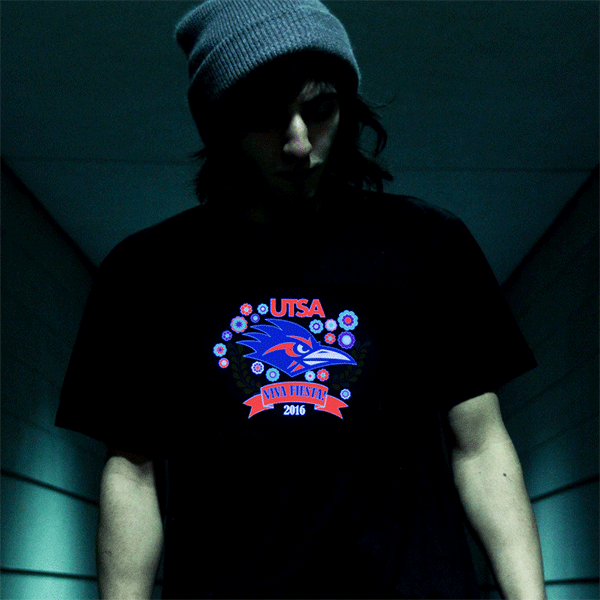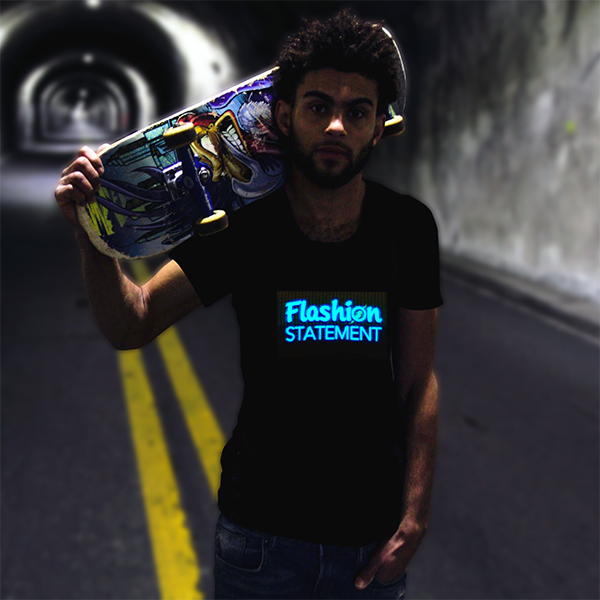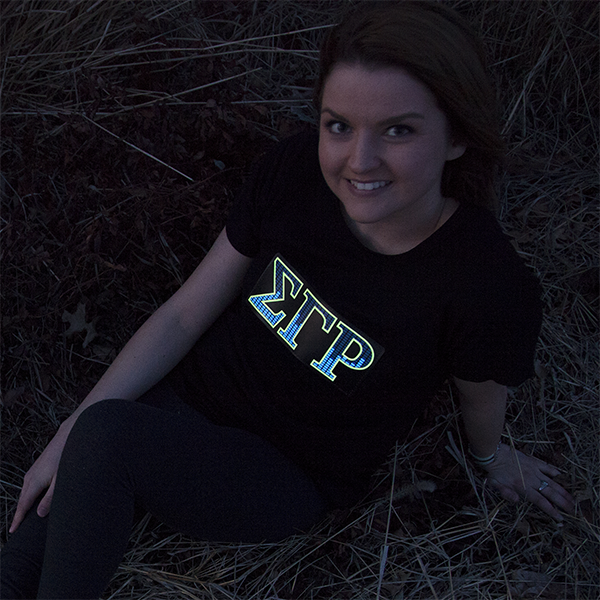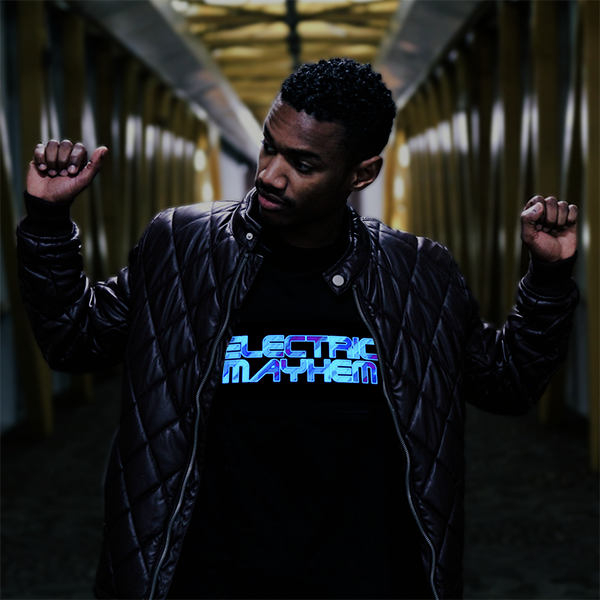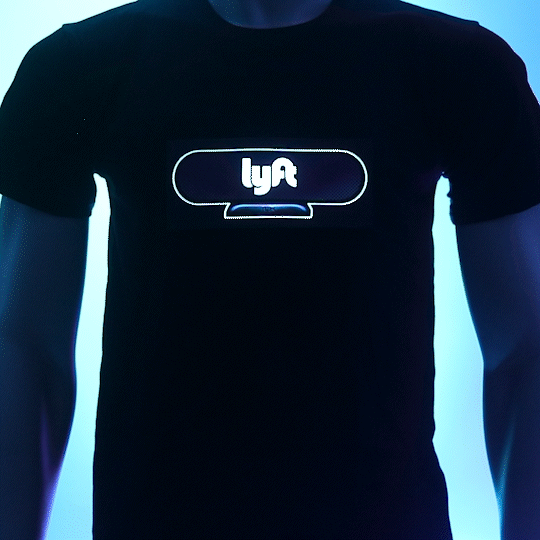 Custom LED Light Up Shirts
| QTY | 10+ | 25+ | 50+ | 100+ | 250+ | 500+ |
| --- | --- | --- | --- | --- | --- | --- |
| 1 Side | $30 | $27 | $22 | $18 | $15 | $13 |
| 2 Sides | $40 | $35 | $30 | $25 | $20 | $18 |
*price per unit.
Contact us
for higher quantity pricing
Make your own custom "EL" light up t-shirts that animate and illuminate your shirt's design to create an eye-catching display

Flip the switch on hidden battery pack to make your design light up - powered by 2 AAA batteries or USB rechargeable lithium ion batteries

Choose your battery pack: sound activated only OR multi-function (constant on, blinking, sound activated and automatic flash)

Choose whether light up panel is sewn onto shirt or attached with velcro; can be placed on front or back of shirt or use 2 panels on front & back
Make Custom Light Up T-shirts & Stand Out!
Our Custom LED Light Up T-shirts turn your message into a walking billboard by illuminating your logo on a t-shirt in a unique animation. Your design is printed onto a thin vinyl material called electroluminescent (or "EL") panel, which is attached to the t-shirt and connected to a battery pack hidden in a pocket within the shirt.
When you flip the switch "on" the design will illuminate in a pattern with up to 5 frames of animation. Choose if your display will light up to sound and music exclusively, automatically flash in sequences, or remains lit up entirely like Tony Stark in Iron Man. Guaranteed to make you stand out!
The EL Panel can be cut into shapes such as circle, star, oval, etc.

Fits true to size (Follow standard US Gildan t-shirt measurements)

Unisex, Female and Kids sizes/styles available from XS-4XL

Black T-shirts only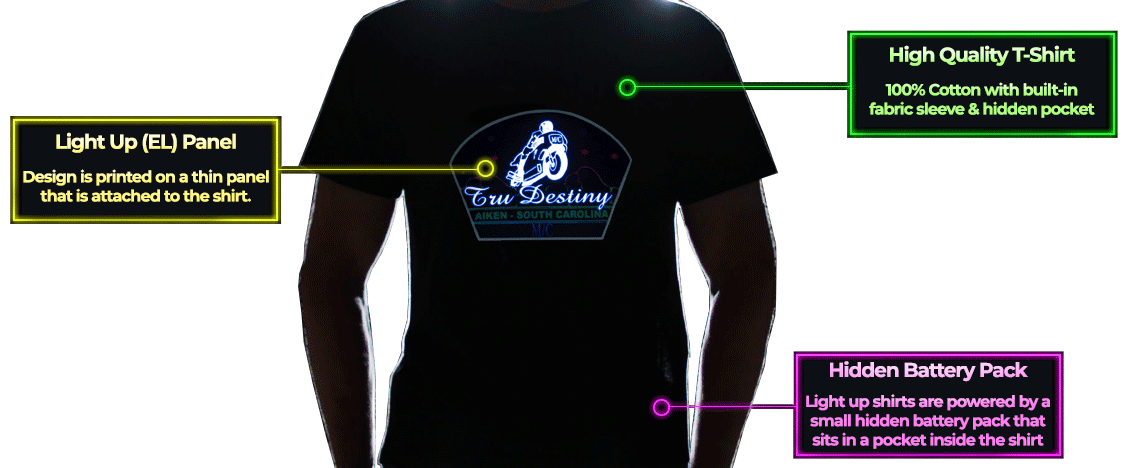 Light Up Shirt Inside Out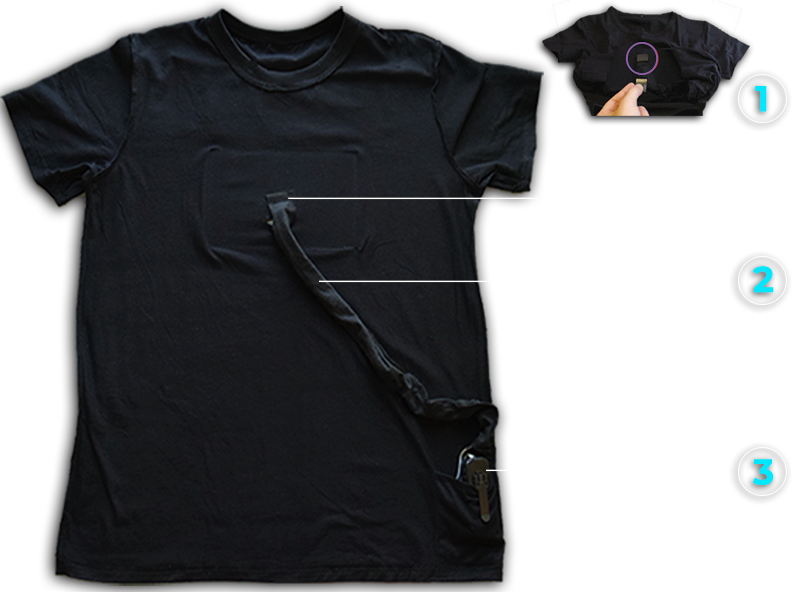 This is where the battery pack plugs into the panel. You can also plug the connection in the other way and it will light up in the opposite direction
This sleeve made of soft cotton material covers the thin wire from the battery pack so you don't feel it on your skin
This pocket is hidden inside the shirt. You can also take the battery pack out of the pocket and clip it to your pants belt buckle or in your own pocket of your pants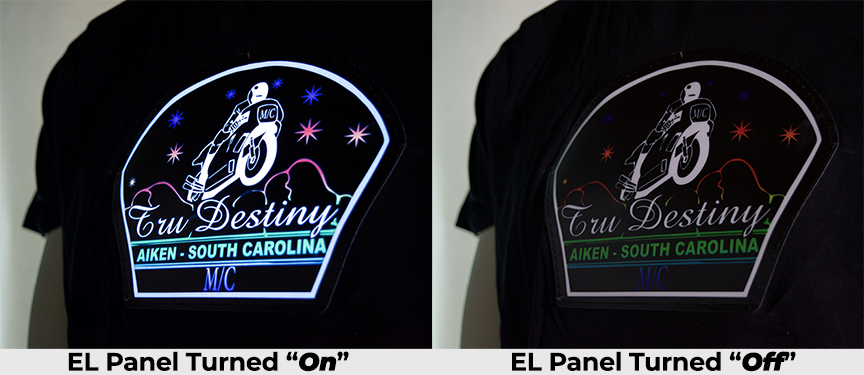 The custom design is silk screen printed onto a paper thin electroluminescent "EL" panel that is attached to the t-shirt; Choose if you want it sewn on directly (hand wash only) or attached with velcro (easier to wash)

The "EL" light up panel is paper thin, flexible, & comfortable to wear, connected to a hidden battery pack

The design lights up through backlighting, illuminating the colors within the design, and is visible when the shirt is on or off

We use special phosphorus and silver inks to create the lighting sequence, splitting the design in up to 5 frames of animation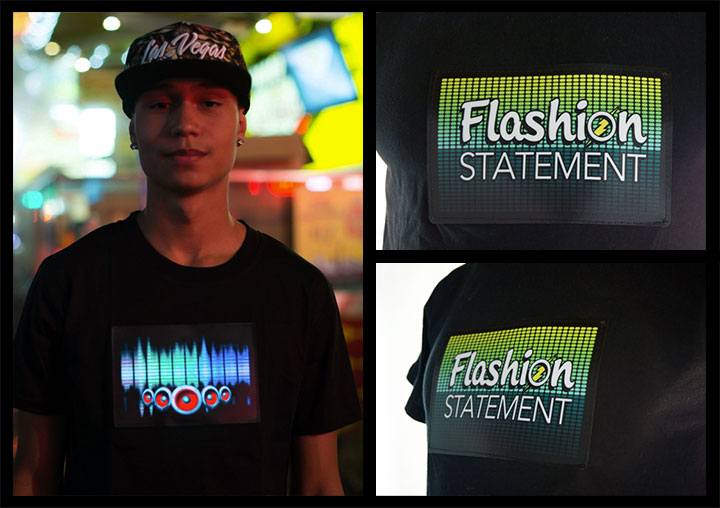 Sewn on panels make the light up shirts hand wash ONLY. Simply use a wet towel to spot clean as needed. Sewn on EL panels look better than velcro in daylight and under fluorescent lights as there is no added layer between the light up panel and the shirt itself. We recommend sewn on panels if you will be using these in a lighter setting like a trade show, or if you won't have much need to wash.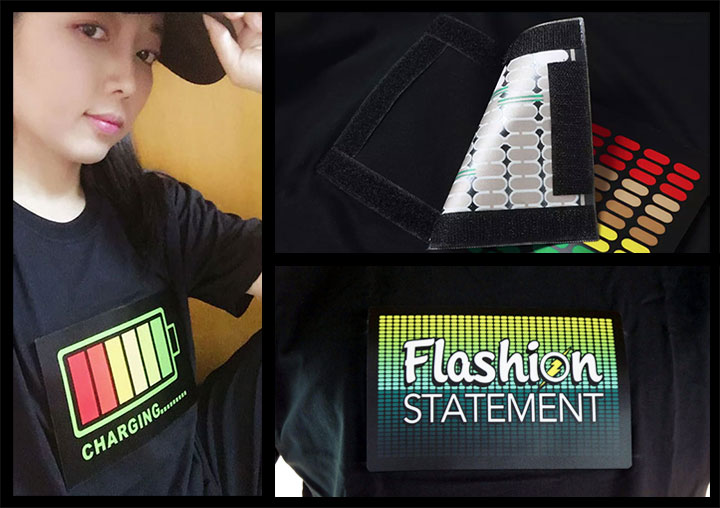 Velcro allows for easy washing. Simply remove the batteries, unplug the battery pack, peel the panel off the shirt, then wash/dry as normal before reassembling. Velcroed panels will stick out more than sewn on, as there are additional layers of velcro between the shirt and light up panel, but you cannot see this in darker settings like a club. We recommend velcro if you need to wash the shirts often.
Sound activated LED shirts light up exclusively to music or any sound

Powered by 2 AAA batteries (easy to replace)

Built in microphone to detect noise and lights up in response to it

Adjust sound sensitivity based on setting (turn up in quiet settings or turn down in louder settings)

Perfect for concerts, music events, festivals, DJs, celebrations and much more
Automatic flashing LED shirts light up in pre-programmed animated sequences

Powered by 2 AA batteries (easy to replace)

Press button on the battery pack to change between different lighting sequences

Auto setting to shuffle through all sequences

Perfect for any event, conference, trade show, celebrations etc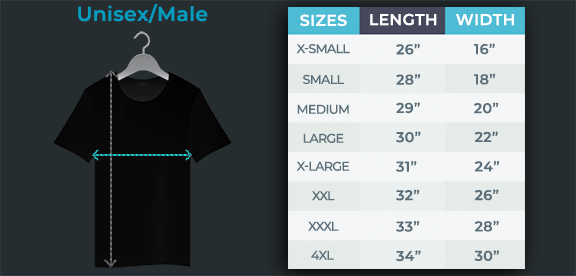 Most popular - runs similar to name brands like Gildan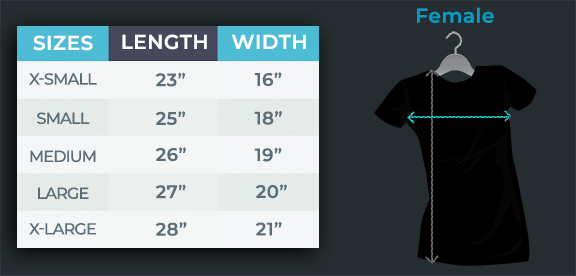 *Tightly fitted - check sizing carefully, may need to order up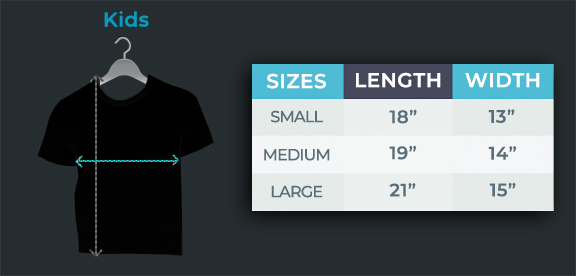 *Runs smaller than traditional "youth" sizing - check chart carefully
Fill out the LED T-shirt order form for a free mock up and quote!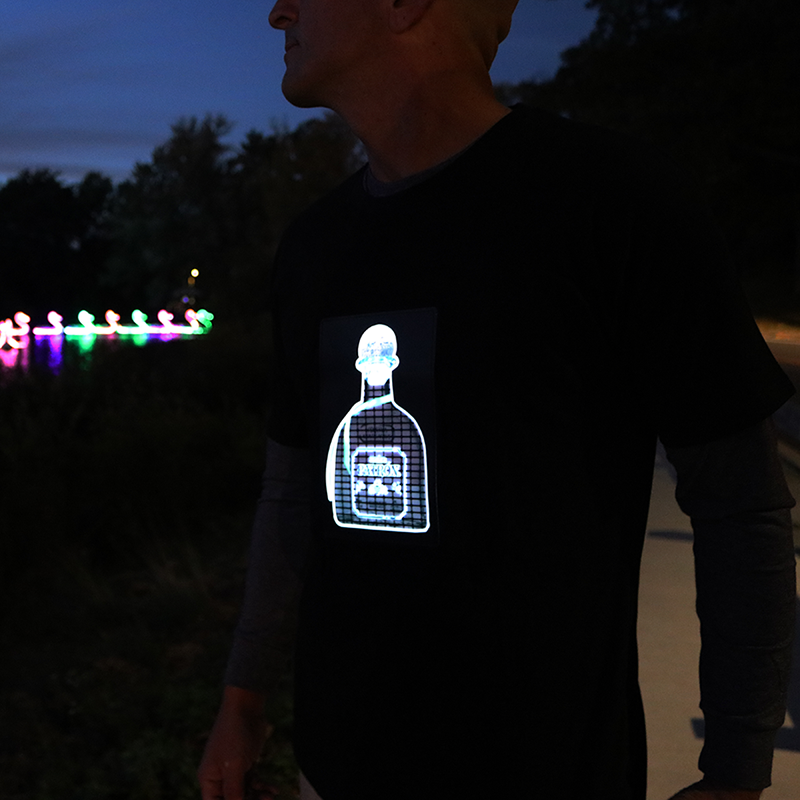 To customize light up shirts we require a minimum order quantity of 10 shirts (all using the same design). We provide unit discounts for larger quantity orders such as 25, 50, 100, 250, 500, 1000, etc. The set up fee is waived for orders of 250+.
Production takes about 14-20 business days (or three to four weeks) plus time to ship. Plan for an additional week for shipping. For quantities over 1000 pcs, or during the busy holiday season, production times may be longer. If you need an expedited service ask our team to see what is possible.
Light up t-shirts use a thin electroluminescent (or "EL") panel that is either sewn onto the t-shirt or velcro-ed. The "EL" panel is connected to a hidden battery pack within the shirt and when you turn the battery pack on, your design lights up on the panel. Your logo can animate in a sequence of up to 5 frames. Choose between a battery pack that is sound activated only or a 5 mode multi-function option which can light up your design in automatic sequences, stay lit fully, blink on/off or light up to sound/music at press of a button.
Light up shirts with sewn on panels are hand wash only. If your light up panel is attached with velcro, then you can simply unplug the battery pack (remove batteries first) and peel the panel off the shirt before washing as normal. Once dry you can reassemble the panel and battery pack.
Yes! The design is printed on an EL panel, using technology that is similar to the dashboard of your car.  Like your speedometer, when the shirt is not connected to power you can see the printed design - but when lit up the colors within the design will illuminate through backlighting. You'll be able to see the lighting effect better in darker settings than light - especially not bright sun (just like your dashboard!).
All of our shirts are special made to include a hidden pocket for the battery pack and a fabric sleeve for the wire.
Standard unisex t-shirts do not run small. These use sizing similar to a name brand Gildan or Hane's t-shirt.
Female shirts are tighter fitting with cap sleeve and scoop neck so we recommend ordering up at least one size.
Kids shirts fit smaller than traditional "youth" sizing so you may want to order up.
View our size chart and check the measurements before placing your order.
We can use any high resolution file such as .JPG, .GIF, .TIFF, .PNG, .PSD, .AI, etc. The bigger the image, the better. Feel free to include as many colors in your design as you want for no additional price. Our design team will create a free animated mock up to show your design's lighting sequence. We work hand in hand with our clients to bring your ideas to life.