We know that there are other places you can buy pre-made and customized light up apparel. While some may seem more enticing with lower prices, it is important to take into consideration the triangle of service.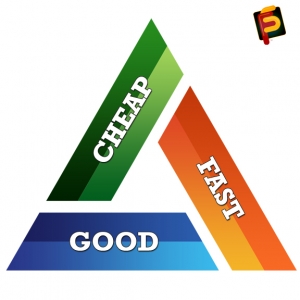 If you have not heard of this before, it's quite simple. There are three kinds of services: fast, cheap, and good. But within the triangle, you can only choose two options:
For example, if you want good service cheap, it will not be fast.
If you want good service fast, it will not be cheap.
Finally, if you want fast service cheap, it will not be good.
In this world you get what you pay for, and more often than not cheaper ends up being more expensive. Beware of cheap imitations. Flashion Statement provides the most comprehensive of services to ensure you have a great experience creating light up products. Our team works with you every step of the way, starting with a free animated mock up of your design. Only Flashion Statement offers a warranty to ensure that you will have a quality product that will last you many years.
This ain't our first rodeo. We have spent years working with countless companies to create the best LED shirts available, staying up to date with the latest technologies. When we first started, our sound activated shirts used big, bulky battery packs that needed 4 AAA batteries. We have since updated to much smaller 2 AAA battery packs, and we even have an option of a wireless panel with a built in battery pack (that means no pocket, no wires!). In such a fast paced changing field, it is important to work with a company who can keep up with new trends in technology.
Additionally, we have an outstanding customer service team who provides help each step of the way. If you are making a custom design, our design team will help create your vision from scratch, and will keep revising until it is exactly what you are looking for. This is a service we offer free of charge to show you how committed we are to creating the light up shirt of your dreams. Simply send over your logo or design idea and within 48 hours you will receive an animated mockup of how your LED shirt will illuminate.
All of our light up products go through a stringent quality control check. If something does go wrong in production (we are human, after all) our team will be able to address it and fix it.
Our competitors may offer cheaper pricing, but we make sure that you have the whole package. Call us at 855-52-FLASH or send us an e-mail to sales@flashionstatement.com to get started on your custom LED shirt.