Here at Flashion Statement, we love having fun and staying active. We try to incorporate fun into everything we do. One sure fire way to make this happen is to turn on the black light. All of these activities are great as is, but doing it in the dark makes it even more exhilarating. Check out our list below for our top 5 glow in the dark activities.
1.) Mini Golf.
When I think mini golf, I immediately think of all the summer vacations I spent down the Cape playing on those amazing outdoor courses after spending all day at the beach. There is nothing quite like mini golf on Cape Cod. However, we all know this is a seasonal joy that barely outlasts Labor day. So what do you do when you want your mini golf fix outside of the summer season? That's where black light mini golf comes in. These courses are indoors, so you can play all year round. They have the same obstacles you are familiar with, such as shooting into a clown's mouth, but everything glows. The golf courses are usually decorated with fluorescent murals, neon paints, and more. You can search through your local area to find a venue that offer indoor mini golf. It is the perfect rainy day activity when you're nostalgic for summer.
2.) Bowling. 
Most bowling alleys have at least one night a week where they turn off the fluorescents, turn on the black lights, and bump some tunes. The most fun I've ever had when bowling has been during these "glow bowling" nights. You get to play the game in a way you haven't before. Bonus points if the bowling alley has a bar. Then you can just get your swerve on while mastering that 7-10 split. Does anyone remember the Disney Channel Original Movie Alley Cats Strike? They saved the otherwise unpopular bowling alley by adding black lights, neon lights, and more. Clearly, there is something to it. Check your local bowling alley to see if and when they offer a glow night and change up your typical bowling routine.
3.) Running. 
Okay, now I like running as much as the next person (AKA I hate it), but for some reason these glow runs are enticing. I mean look at the picture above; it looks more like a rave than a marathon. Runners can sign up in teams or individually to run these glow courses. Typically they incorporate music, glowing neon trees that change colors, tunnels with dancing patterns on the walls, floors, and ceilings, laser shows, glowing arches and columns, colored fountains that dance to the beat, and so much more. Runners are usually given some sort of freebies such as a shirt, light up sunglasses, glow sticks, etc, and are encouraged to dress up in funky attire (custom light up shirts anyone?). Some of the more popular 5Ks are Electric Run and Glow Run 5K. These night runs are a great way to stay healthy and active, and most importantly, distract you from the pain of running.
4.) Yoga. 
Glow in the dark yoga, or "Glow-ga" if you will, is another fun way to stay active and distract yourself from an otherwise brutal workout. You may not think of yoga as such, but you probably haven't attended a yoga class to know just how much it works your body. Attendees are encouraged to wear white and other neon colors so as to glow under the black light. Instructors typically hand out glow sticks and sometimes will use neon paints on your body to make it a bit more fun. Similar to the 5K's, classes utilize upbeat music to keep you moving. There are not many exclusive glow in the dark yoga studios, but it is likely you can find a studio that offers a glow class.
5.) Badminton AKA "Blackminton."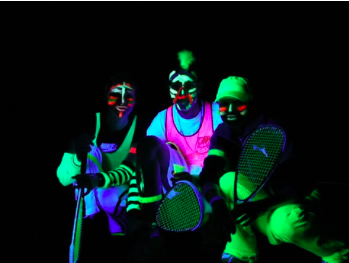 Now for you to be excited about this activity you have to redefine your impression of Badminton. This is not your average Badminton game played in the comfort of a backyard barbecue. "Blackminton" or "speedminton" is a much faster paced version of the game, using black lights, glowing rackets, a glowing birdie, lighted courts, and pulsing music. The game is more difficult than you think, as the shuttlecock is bigger and harder and flies much quicker, plus its glowing nature creates a shooting star effect. Blackminton is the improvement badminton has been waiting for since it's inception. Contact Speedminton to schedule your own Blackminton game.