It may be hard to believe, but t-shirts weren't always in style. Back in the day, our grandparents were rocking 5 piece suits and dresses and skirts. We thought it would be fun to learn a little bit more the history of the t-shirt and follow it's evolution into our every day style. This staple item is owned by just about everyone—whether it's that Fruit of the Loom 3-pack variety you picked up from Target, the shirt you got for running a 5K, or even a graphic logo tee that say "Horn if you're honky" (Thanks, Abercrombie & Fitch)—but that wasn't always the case.
Where The Name "T-shirt" Came From
Ever wondered why it's called a t-shirt? Well, it's actually pretty literal. Lay out your favorite tee on your bed and look at the shape. With a boxy torso, and sleeves on either side, it is T-shaped and in fact creates a "T" when on your body. The t-shirt is normally associated with short sleeves with a crew neck without a collar.
The Beginning
The t-shirt started off as mens underwear. Typically they were part of a standard blue collar union uniform. Back then, t-shirts were then only worn as undershirts. It was not until 1898, following the Spanish American War that the Navy adopted the t-shirt. This was so they could remove their uniform jackets in warmer climates.
Still, t-shirts were not worn by civilians in every day life, besides under their button down shirts and suit jackets. It wasn't until the 1950s that t-shirts became popular every day wear, thanks to Hollywood legend Marlon Brando's iconic role in A Streetcar Named Desire.
The 1950's
After seeing the athletic and muscular Brando in a short sleeved white tee for the majority of the movie, the t-shirt soon turned into the epitome of masculinity. After the movie's release in 1951, t-shirt sales skyrocketed to over $180 million. From then on, t-shirts became acceptable and fashionable as outerwear, instead of just hidden underwear.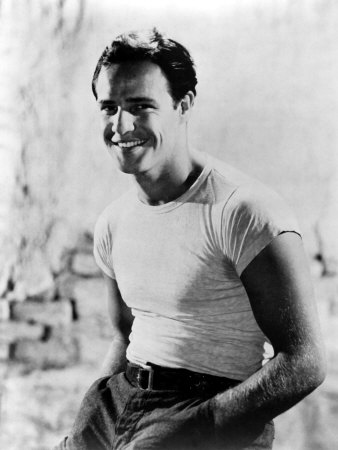 Marlon Brando making the t-shirt iconic in his role in A Streetcar Named Desire
That's not to say t-shirts weren't worn before Brando. The graphic tee was first introduced to the mainstream on a cover of LIFE magazine in 1942. Additionally, collectible shirts were made to promote The Wizard of Oz in 1939. But Brando expanded the popularity of the t-shirt, and made it into an "it" item. Soon after Streetcar, a Miami-based company Tropix Togs started printing tourist shirts after buying the rights to Disney's Mickey Mouse. From there, t-shirts exploded as an open canvas for every gift shop, shopping plaza, and sports team imaginable.
The 60's
In the 60s, t-shirts became a piece of wearable art—a means for those to express their beliefs and political views. Although wearable art has certainly transformed beyond just the t-shirt over the years, with fitness trackers, light up shirts, and smart jewelry for example, it's beginnings can be traced back to the hippie movement. Soon men and women alike were wearing t-shirts, including icons like Pam Grier and Bridget Bardot.
70's, 80's and Today
Fast forward a few decades to t-shirt innovations like tye-dye, glow in the dark ink, direct to garment printing, even t-shirts that actually light up using using a small battery pack. T-shirts continue to grow in popularity as new methods of printing become more available. Most businesses, bands, and corporate companies jumped on the bandwagon of making branded t-shirts that promote their company, message or product. T-shirts have become a staple advertising tool for millions of companies
Conclusion
The t-shirt has transformed into a bastion of creative expression, and can be customized to create just about anything you'd like. Although it continues to evolve, it is evident that the t-shirt will always be an on trend fashion staple.