Sewn on Vs. Velcro-ed LED Shirts
---
The light up panels can either be sewn onto the apparel or Velcro-ed. We recommend the sewn on panels as they are more aesthetically pleasing and look more professional overall. However, it is important to keep in mind that sewn on panels are hand-wash only. The velcro-ed panels add a little extra layer and tend to stick out a little more. These are good if you need to remove the panel and wash the t-shirt or other apparel.
Sewn On Panel
---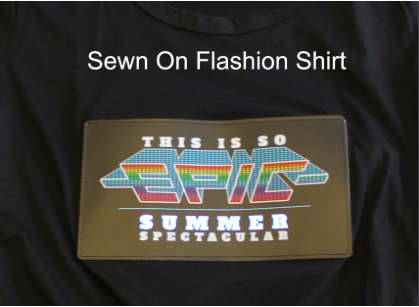 ---
The sewn on light up panels look and feel more part of the shirt and do not stick out like the velcro-ed ones.  However these are hand wash only. You can dry clean them as well. If you plan on using the shirts often and prefer to be able to machine wash your shirt, we recommend getting the velcro-ed. Otherwise we definitely recommend the sewn on option because it is looks more professional.
---
Velcro-ed Panel
---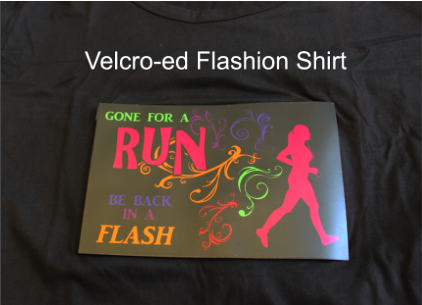 ---
The other option is the velcro-ed panels. Velcro does tend to stick out more than the sewn on ones because you have the added layer of velcro in between the panel. These are great if you want to be able to machine wash the t-shirts more often since the panel and battery pack are removable. Carefully unplug the connection from the panel and take out the battery pack and peel off the velcro-ed panel and you can throw the shirt in the machine wash. These are also great if you want to put your light up panel on another application such as another piece of clothing or a backpack etc.
Ready To See Your Logo In Lights?