#StinaGang LED Shirt Fundraiser
$ 35.00
On September 30th, 2017 my niece Christina Jones lost her life to Domestic Violence. She was only 20 years old. I would like to raise awareness and donate the profits to the Women's Safe House in St. Louis, Missouri or let my sister Julie decide which women's organization to donate to in honor of Christina.
Please purchase an LED shirt to support our cause and raise awareness about domestic violence. These sound activated shirts light up to sound and music through a small hidden battery pack. This custom design, in honor of Christina Jones' life, is printed on a thin EL panel  approximately 7″ x 7″ in size, and is sewn onto the shirts directly. Insert 2 AAA batteries and flip the switch to "on" to make the design light up and animate.
Thank you for your support and raising awareness to this cause. #StinaGang 🤟
All funds raised will go towards Julia Holmes (fundraiser started by Lynn Holmes).
How Light Up T-shirts Work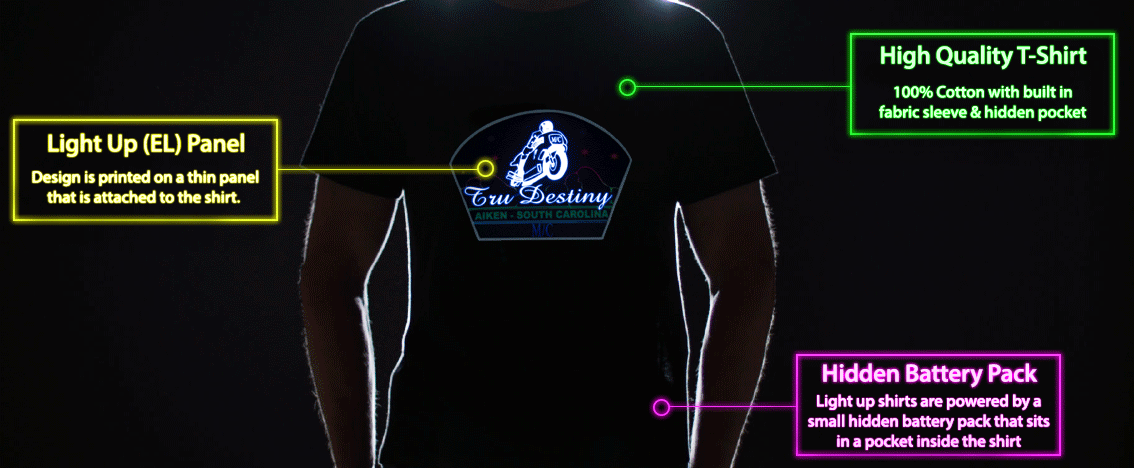 Our light up shirts work using a thin el panel that we attach to the t-shirt, either sewn on or velcro-ed depending on your preference. Our t-shirts are 100% cotton and specially made with a sleeve for the wire and pocket inside the shirt for the small battery pack. When you insert batteries in the battery pack and turn them on the light up panel lights up in animated way.
Sound Activated Shirts
Our sound activated shirts will light up in response to sound, music or any noise. There is a tiny microphone in the battery pack and when you turn it on it will animate with the noise or sound. There is a sensitivity dial on the battery pack that you can adjust if it is louder or quieter around you.
Automatic Light Up shirts
Automatic light up shirts will light up in 5 different animation sequences. The battery pack uses 2 AA batteries and you can adjust the way it lights up with a push of a button. You have the option to turn it on auto where it will cycle through the different animations or turn it on and choose an animation you like best.
Washing Instructions
If the panel is sewn on to the t-shirt it is hand wash or dry clean only. You must remove the battery pack and you can wash around the panel. If the panel is velcro-ed to the t-shirt then you can remove the battery pack and panel and throw the shirt in the washing machine.